The closest situation to the COVID-19 pandemic of 2020 happened a century before when the Spanish Influenza hit the world with force. People around the world scrambled to adjust to rapid changes in the way they live and do business
Coronavirus has changed the way people work, driving us closer to a remote work economy faster than anyone expected. The Pew Research Center found 71% of people were working from home in December 2020.
Probably more telling is that over half of those surveyed would like to continue remote work after the outbreak ends. Now that the world has a taste for telecommuting, companies are more likely to offer at least some remote opportunities.
The shift impacts some designers and not others. Those who were freelance were likely already working from home. The global pandemic may not have impacted the lives of graphic designers by much, but they have impacted everyone else's lives through their efforts to get ahead of the outbreak.
- Advertisement -
1. Grab Attention
COVID-19 was a pandemic on a scale the world hadn't dealt with in modern times. Information swirled across the internet about the dangers of wearing a mask and the risks of not wearing one.
Health organizations, such as the Centers for Disease Control and Prevention (CDC) and the World Health Organization (WHO) struggled to get factual information into the hands of the public.
Graphic designers stepped up and created infographics, signs, and guides to help people navigate the new recommendations for daily living.
The CDC enlisted the help of graphic designers to come up with signs, infographics, and ads to help inform the public about how to stop the spread of the virus. They illustrated and captioned simple explanations about distancing from others and washing your hands often.
2. Lighten the Mood
Creative types quickly jumped into the role of comedians. They created memes and cartoons depicting the sudden societal changes. By sharing a look at the lighter side of a heavy issue, they helped the world lighten the mood and see there was hope for a post-pandemic future.
- Advertisement -
In addition, the need for content matching the times increased. Designers stepped up to reach the nearly two billion visitors who visit YouTube every month. They also sought ways to speak to those on social media and news platforms.
3. Offer Free Resources
Many graphic designers realized businesses were floundering to share new policies and inform their customers of the many changes in their operations.
Again, graphic artists stepped up and created free printable templates and signs to help small companies get the word out without spending a lot of money.
SpeedPro offers signs and graphics for businesses. They stepped up and created a couple of free templates business owners could utilize to help explain processes and how to prevent the spread of COVID-19.
4. Improve User Experience (UX)
Designers tend to be UX experts. They understand the usability issues people have and how to overcome them through excellent design. When the pandemic struck, many companies turned to their designers for ideas on how to shift processes. UX design increases conversions by as much as 400%.
The layout of the store was one big way UX designers stepped up to help their companies. Spacing was of the utmost importance to slow the spread of the disease. Adjusting the way people stood in line and adding signage to the floors to show six feet of spacing is something various artists worked on at lightning speed.
5. Improve Health
Graphic designers also used their skills to spread the message about coronavirus and its symptoms. If people recognize the signs, they can self-isolate faster, get tested, and get the medical care they need without spreading the illness to others.
Since people are much more likely to remember a visual depiction of facts, creating sketches to go with advice is much more powerful for the average person.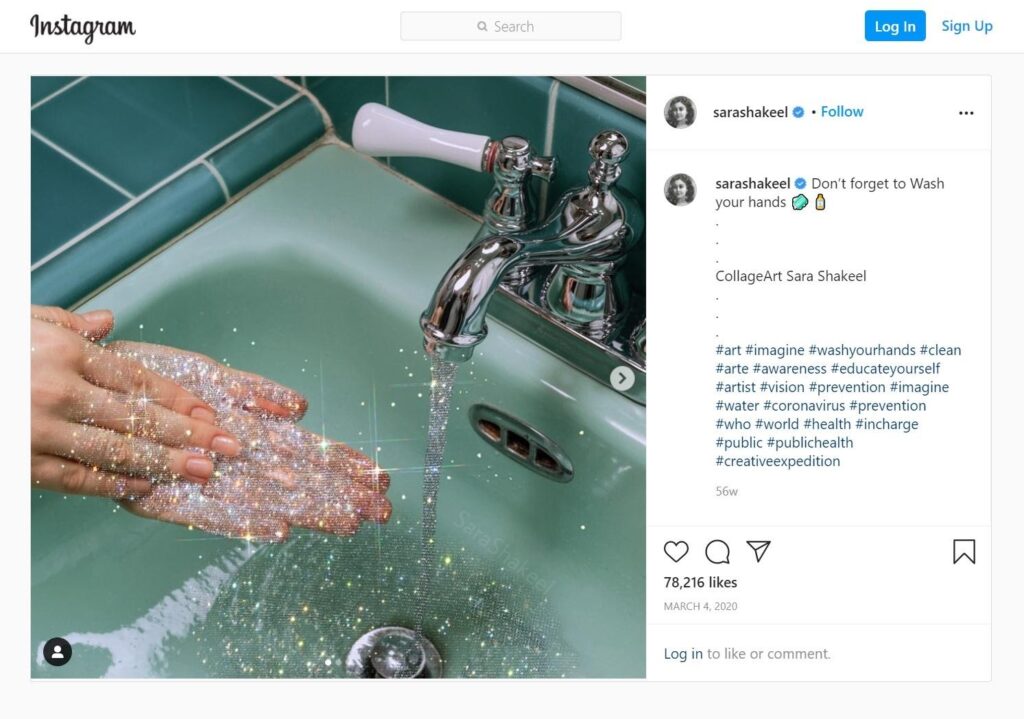 Designer Sara Shakeel encouraged people to wash their hands more with a collection of glittery images. It caught the attention of 76,216 people on Instagram. Putting their talents to the task of grabbing attention and educating the public helped save countless lives.
6. Fill the Gap
With more companies shifting their focus to a work-from-home mentality, there is a greater need than ever for freelance graphic designers and other creative professionals. Graphic artists stepped up to fill the increased needs of businesses suddenly flung into the online e-commerce world.
They did everything from designing websites to serving as social media managers. Brands that only operated in the physical world needed digital assets to market their products online.
7. Celebrate Heroes
There are some people who stepped up during the crisis and performed duties others can't. Frontline workers such as doctors, nurses, and EMTs worked tirelessly to save lives. Restaurant workers found new and effective ways to serve the public. Grocery store clerks risked their own heath to make sure others had the food needed to survive. Truck drivers delivered food and paper products as quickly as they could.
Graphic artists stepped up with campaigns thanking these unsung heroes for their service. For example, they made people aware of the plight of truck drivers who were unable to fit their rigs in a drive-through when the inside of restaurants remained closed.
They Inspired Us
Throughout the pandemic, graphic designers inspired us to give more to our fellow man. They taught us what to do to stay safe. When there were needs, they filled the gap. Their work informed us and guided us. Although not always recognized, graphic designers served a huge need in a world turned topsy turvy. Imagine a world without their direction!
Eleanor Hecks is editor-in-chief at Designerly. She was the director at a marketing agency before becoming a freelance web designer. Eleanor lives in Philly with her husband and dog, Bear.