Have you ever wondered what the difference between Liquid Web and Nexcess web hosting is? You could be a web developer looking for hosting, and you do not know which route to take. Liquid Web is a market leader in VPS and dedicated server hosting. Nexcess is a Liquid Web brand that focuses on WordPress and other content management systems (CMS) for content sites and e-commerce.
You've recently started your business or blog website to grow it and generate a lot of money. If you are serious about growing your business, you will need the assistance of a Web hosting firm. They enable you to host your content and give high performance and speed for your website on the Internet. You won't be able to engage readers in your blog unless you have reliable web hosting.
The most significant Web hosting providers anywhere on the Web always come up as top two are Liquid Web and Nexcess. Are you undecided on which one to choose? Don't worry; I have simplified the major features and characteristics of both of them for you. Because both websites offer world-class features and services, deciding which is the superior option is challenging. Both are very qualified and deserving of the top spot. It's difficult for us to choose between them because they both offer features that others don't.
#1 Liquid Web: Best for VPS & Dedicated Server Hosting
Liquid Web is a leading provider of hosting solutions such as VPS and Dedicated servers and world-class hosting services. The most trustworthy platform for Web hosting can help business owners expand their businesses to the next level. The basic idea of this platform is to help clients grow important sites, stores, and applications. It is made possible for you by more than 300 expert designers, operators, and administrators. Liquid Web's major goal is to boost your business's prospects and genuine potential.
- Advertisement -
Liquid Web's Key Features:
Liquid Web has a plethora of features that propel it to the top of the Web hosting rankings. Here are a few of its essential features:
Liquid Web Hosting has more than 50000 customers from more than 150 countries.
It has successfully managed over 500000+ sites all around the world.
A team of around 500 specialists serves customers.
Have more than ten worldwide data centers and servers
Hosting advice.com has it ranked first.
Email, phone calls, and live chat are available 24 hours a day, 7 days a week.
Liquid Web provides the following services:
Liquid Web provides its customers with various features and services. These enhance the site's and applications' potential and capabilities, allowing entrepreneurial businesses to grow consistently. Some of these services are listed below:
Feautured solutions by Liquid Web
1- Customized Server
Single-tenant conventional servers that can be customized. Starting at $169.
2- Virtual Private Server (VPS) hosting
A VPS with root access for high performance. Starting at $15.
3- Dedicated Cloud solutions 
Single cloud servers are available on demand. Starting at $169.
- Advertisement -
4- VMware Private Cloud
On multi-tenant or dedicated I infrastructure, scalable VMware Private cloud hosting is available. Starting at $510.
To know more about Liquid Web services, visit this page.
#2 Nexcess: Best for WordPress and E-commerce hosting
Nexcess is a Liquid Web brand that focuses on WordPress and other content management systems (CMS) for content sites and e-commerce. Nexcess is a well-known Web hosting firm or platform founded in the year 2000.
"The Nexcess" offers a range of tools and services to assist in growing your online business, shop, application, and blogs. Nexcess' built-in fully managed hosting is much better. Nexcess' crew is dependably dependable, responsive, and customer-focused.
Nexcess's Main Characteristics:
Nexcess is a well-known Web hosting platform that offers world-class services at easily reasonable costs to its users.
Nexcess' services always prepare for high volume spikes.
It provides double-protection security for your site and ensures that your site remains safe.
Provides its customers with the speed that a growing firm needs.
Support is available 24 hours a day, 7 days a week by email, phone calls, and live chat.
Have more than 20 years of experience in the field
There are almost 500000 websites under control.
There are more than ten Nexcess servers throughout the world.
It is a Platinum Partner of the Magento Association.
Nexcess Provides the Following Services:
Nexcess gives its users a plethora of fascinating features at a low cost. Everyone can afford to subscribe to their products. There is no need to spend significant sums, and you can quickly build your business, store, application, and blog. The following services are available:
1- Managed Magento Hosting
Ecommerce platform with a lot of features designed for high-traffic sites. Starting at $49.
2- A fully managed WooCommerce solution
A low-cost E-commerce hosting, high-performance, and easy to scale. Starting at $19.
3- Nexcess' Store Builder
Your WooCommerce store's homepage has built-in intelligence. Free with their hosting.
4- WordPress hosting with complete management
A highly versatile and widely used content management tool.
Automatic updates with regression testing, unlimited email, free SSL certificates, and intuitive tool scalability. It also has over 58000 free plugins are just a few of the features available. Starting at $19
5. Drupal
Ideal for healthcare and educational websites, this platform is highly scalable and flexible. Starting at $29/
6. Nexcess Membership Sites with WP Quickstart
Nexcess provides powerful membership tools that will power up your website. Starting at $49.
To know more about Nexcess services, visit this page.
#3 Liquid Web vs. Nexcess Hosting: What's the Difference?
Liquid Web is a market leader in VPS and dedicated server hosting. Nexcess, on the other hand, focuses on WordPress and other content management systems (CMS) for content sites and e-commerce.
Check this infographic for a quick comparison: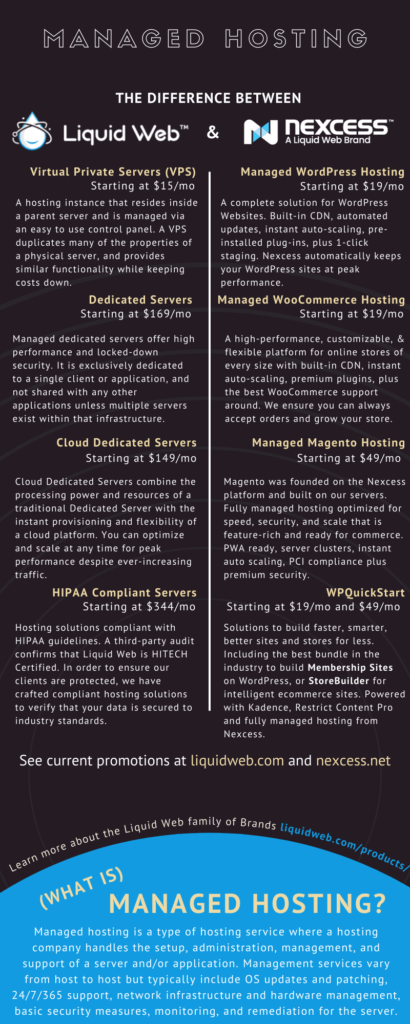 Final Thoughts
According to our analysis, they practically have the same rating. Now it's all up to you to decide what you want. If you want cheap web hosting, go with Nexcess. If you have a larger budget and want quality and exotic services, go with Liquid Web.
In my opinion, up-and-coming e-commerce and blogging firms should use Nexcess because there is so much more to learn from this platform. The essential feature is that it is inexpensive; therefore, it is easily accessible. However, if you manage a website with millions of visitors, you should choose Liquid Web. This is because you now have a sufficient budget and require premium capabilities to go further. It would be best if you used Liquid Web.