During the year of 2014, Facebook has been very busy adding features and changing many things in their platform. From Privacy updates to making the messenger mandatory to read messages on phone.
But for the Social Media Marketers, Facebook has done some great improvement that we thing will help in the processing of business pages.
Here are the top updates for 2014:
1. Transition between profiles for admins:



With this feature and without changing the actual page, have the ability to change who you are liking, commenting, or/and sharing as, and this right within a single post!
This makes it easy  to see who you are posting as, and makes it a lot less painful to act as multiple profiles.
2. Save a story for later in News Feed:


This feature allow users to scroll through the News Feed and save stories they find interesting for later on your Homepage.
This Facebook feature is great if you want to curate content while browsing the feed and helping you  to organize posts you want to read later.
- Advertisement -
3. Save Drafts for future posts: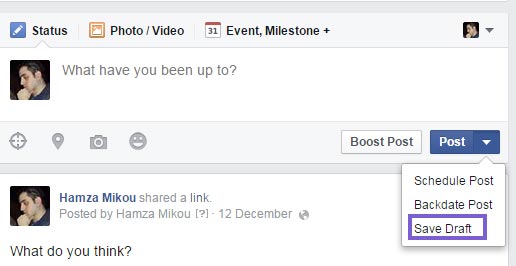 You can't tell when creativity is knocking your door. That's why Facebook added this new feature to allow admins to save drafts of publications.
Now admins can start writing a post, get a 10 minutes break or go to an important meeting, and come back to the post right where they left it off!
Those are the best features from Facebook for admins by the BlogProcess team, what are yours?